Schitt's Creek Recipes With Weed
If you haven't had the chance to watch the award-winning, Canadian TV series you may want to reserve the couch for the next few weeks! Today, we're taking inspiration from the show and creating Schitt's Creek Recipes With Weed!
Without wrecking it for those who haven't seen it, there is one scene that had me doubling over in laughter! It has to do with cooking, so this blog is very appropriate.
We promise you won't have to 'fold in the cheese' for our tasty cannabis enchiladas recipe below!
Speaking of cheese.. this cannabis-infused nacho cheese dip recipe is amazing! (zero folding required)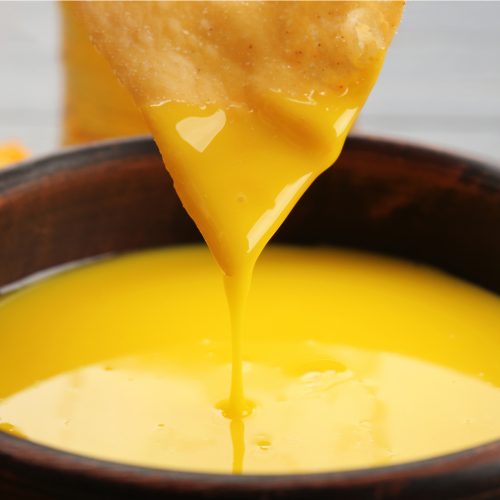 What Are Some Recipes From Schitt's Creek?
If you're a fan, you'll remember that Café Tropical had some pretty famous and funky smoothies!
Don't gamble with your tastebuds here, and make some of our tasty weed smoothies that we bet Alexis will love.
Peanut Butter Cannabis Smoothie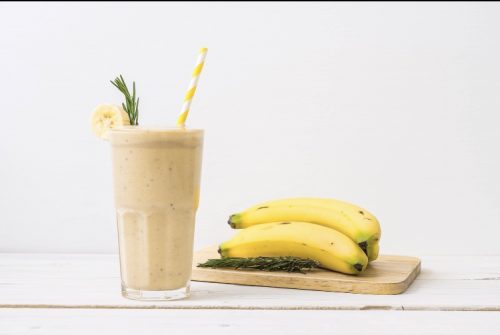 Calories: 200kcal
THC: 86 mg per batch
1/2

Cup

Cannabis Milk

1/2

Cup

Milk

One

Frozen

Banana

2

Tablespoons

Powdered Peanut butter

1

Tablespoon

Cocoa Powder

1

Teaspoon

Ground Cinnamon
Calories: 200kcal | Fat: 20g
---
Cafe Tropical Smoothie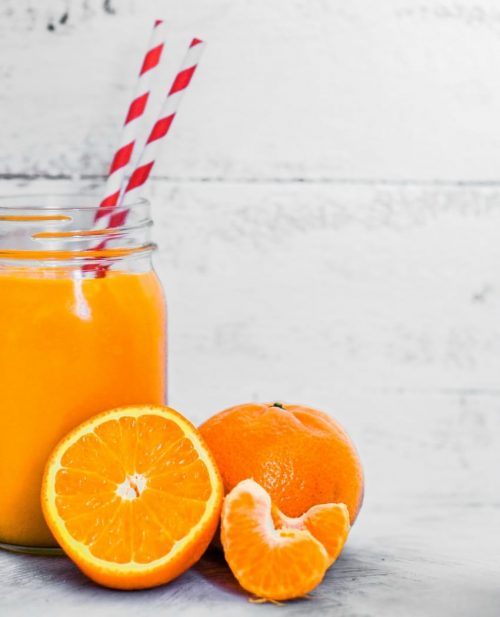 Servings: 2 people
Author: Steph Van De Ven
Cost: 35
Blender or Bullet

Glass & Straw
Blend all ingredients together until smooth

If it's too thick, add more milk or water and if it's too thin, add a few ice cubes until it's the desired consistency.

Serve & Enjoy!
---
Moira, played by actress Catherine O'Hara, is far from domesticated – to say the least.
Coming from a ton of money, she is totally out of her element when it comes to cooking or being a Mother for that fact.
She decides, however, that she needs to create her aunt's famous enchiladas recipe for a family dinner to restore her role as a good Mother, and at the same time commissions David, her son, to help.
David Rose, played by actor Dan Levy, has some mad skills, but absolutely NONE in the kitchen!
The two of them together are basically a hot mess and who knows if the family dinner turned out or not, but what we do know how to make is weed-infused enchiladas that work!
Cannabis Enchiladas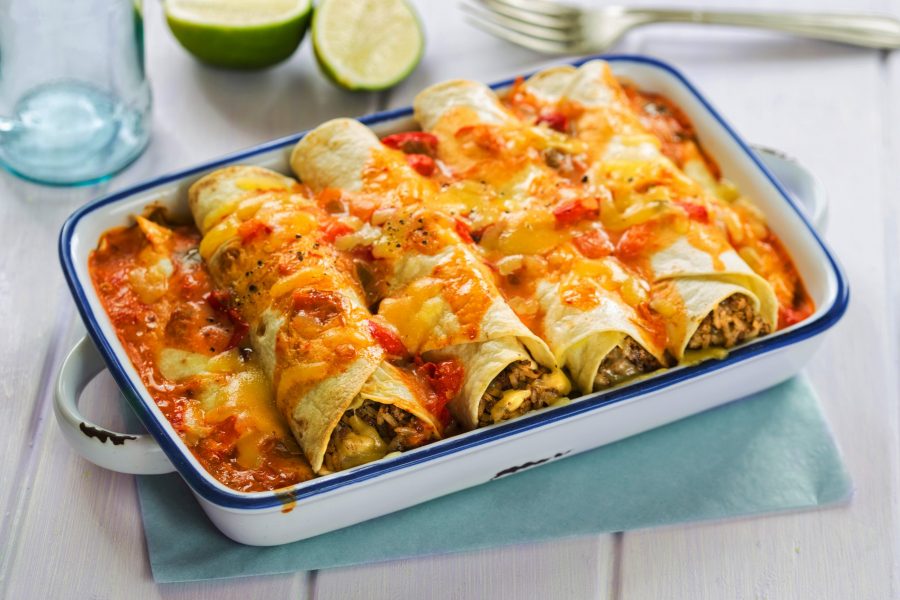 Servings: 4 people
Author: Steph Van De Ven
Cost: 20
Oven-safe casserole dish

Mixing Bowl

Spoon
1

cup

shredded chicken

1

cup

enchilada sauce

divided

1

cup

grated cheese

any kind you like

5

tortillas

whole wheat or any kind you like

1

cup

sour cream

1/2

cup

fresh cilantro

chopped
Assembling The Tortillas
Mix the chicken, half of the enchilada sauce, and half of the cheese blend in a bowl.

Wrap the tortillas in a paper towel and microwave for 30 seconds.

Preheat oven to 350°F

Place the chicken on the tortilla and roll tightly.

Place the enchiladas in a baking pan and top with the remaining cheese and sauce

Bake for 15 minutes, or until cheese has melted.

Top with sour cream and cilantro.
---
As the series continues on, a re-branding and refreshing of the Budd Motel are in serious order.
Johnny, played by actor Eugene Levy decides that they need to offer something 'more'.
His decision to source and offer cinnamon buns doesn't exactly turn out the way he thought they would, but we bet if he offered cinnamon buns with weed, he'd have bookings at the motel for a year in advance!
Cannabis Cinnamon Buns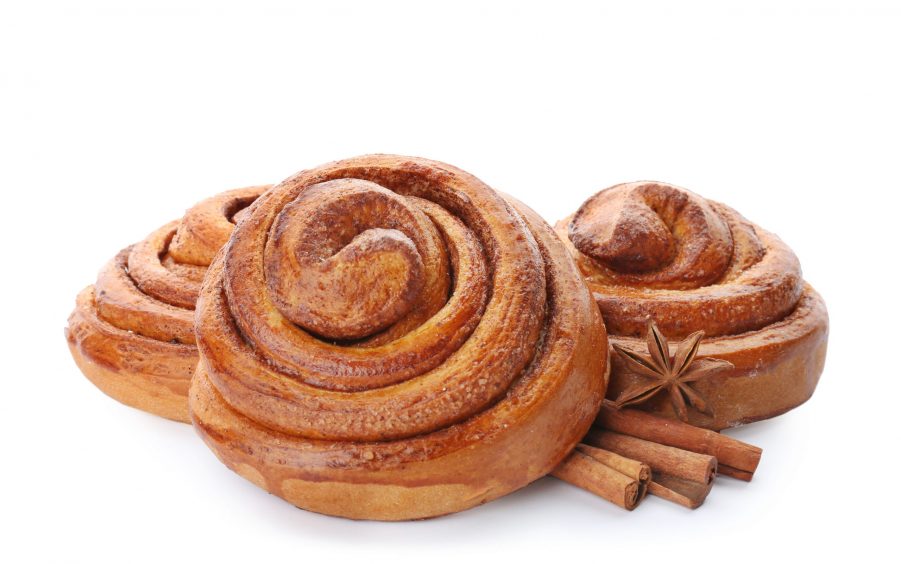 Servings: 4 people
Author: Steph Van De Ven
Cost: 40
3/4

cup

Cannabis milk

2 1/4

tsp

Active Yeast

1/4

cup

Sugar

Finely Granulated

1

Egg yolk

Room temp – not straight from the fridge

1/4

cup

Cannabutter

3

cups

Bread Flour

3/4

tsp

Salt

or a dash – same thing!
Cinnamon Filling
1/3

cup

Brown Sugar

1 1/2

tbsp

Cinnamon

Finely ground

1/4

cup

Cannabutter
Cinnamon Roll Frosting
4

oz

Cream Cheese

full fat

3

tbsp

Cannabutter

3/4

cup

powdered sugar

1/2

tsp

vanilla extract

fresh,pure organic if possible
Using warm Cannabis Milk, and add it to your mixing bowl. Using your electric mixer slowly sprinkle yeast on top. You'll know your yeast has activated if it begins to foam after a few minutes. If it hasn't, then start over; your cannabis milk was either too hot or too cold.

Once you see foam, add in sugar, egg, egg yolk and cannabis butter. Mix,mix,mix! Next, stir in flour and salt with a wooden spoon until a dough begins to form.

Use your dough hook or hands. If using your electric mixer, knead the dough on medium speed for about 8 minutes. Alternatively, use your hands to knead the dough for 8-10 minutes on a well-floured surface.

The dough should feel slightly sticky and form a nice ball. Next step!

Transfer dough to your bowl, ( some bakers use a little oil here, spread it all over the bowl, an dplacedough inside. Your call, but it helps. Then, cover with plastic wrap and a warm towel. Allow dough to rise for 1 hour, or until doubled in size.

After dough has doubled in size, transfer the dough to a well-floured surface and roll out into a 14×9 inch rectangle. Spread your Cannabis butter over dough, evenly, leaving a ¼ inch at the far side of the dough. ( the side furthest away from you)
Cinnamon Filling
In a small bowl, mix together the brown sugar and cinnamon. Use your hands to sprinkle mixture over the buttered dough evenly. It will stick perfectly!

Roll up your dough tightly, (for beginners: like you're rolling up a bath towel) starting from the 9 inch side. Be sure to seal the edges of the dough.

Cut into 1 inch sections with a serrated knife. You should get about 9 large pieces.

Place cinnamon rolls in a parchment paper-lined 9×9 inch baking pan or round 9 inch cake pan.

Cover with plastic wrap and a warm towel and let rise again for 30 minutes.

Preheat oven to 350 degrees F. Remove plastic wrap and towel and bake cinnamon rolls for 20-25 minutes or until just slightly golden brown on the edges.

It sounds weird, but you want to underbake them a little so they stay soft in the middle.

Let them cool for 5-7 minutes before frosting. Seriously! You have to wait before you frost.
Frosting (do this while rolls are baking in oven)
Using your electric mixer, combine cream cheese, cannabis butter, powdered sugar and vanilla extract. Beat it until it's smooth and fluffy.

Spread over top of your baked cinnamon rolls (after waiting the horrible 5-7 minutes to let them cool down!)
Here are some other things we bet Moira & David would be able to make a little easier.
Follow our fun and step-by-step recipes below to make weed edibles everyone will love.
Cannabis Butter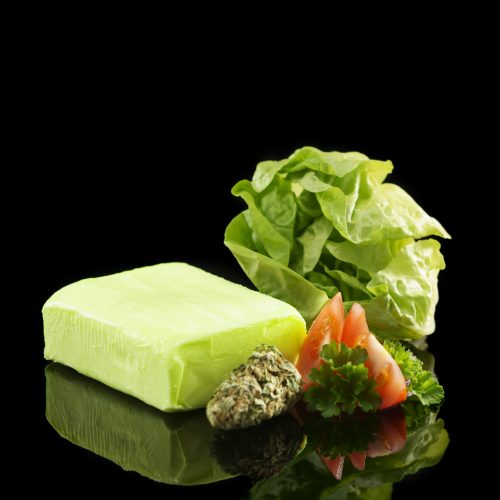 Servings: 1 Cup
Calories: 1628kcal
THC: 700-1400mg
Author: Steph Van De Ven
Decarboxylate your weed by spreading your cannabis evenly on an oven tray And coat with aluminum foil.

Place in the oven on 240F/115C for 25 till 45 minutes, and then let it cool.

Grind your dry cannabis or chop it till fine.

Place the cannabis in a strong mason jar, add butter and (1 tsp of sunflower lecithin)(optional)

Place your closed jar in cold water and let it come to a boil, Boil for 2 to 3 hours.

Strain your butter through a cheesecloth.

Cool down

Now you can use the Cannabis Butter (Cannabutter)
If using a mason jar, be sure to start with cold water. Furthermore, it is imperative to let the water cool gradually so that your glass will not shatter.
The video guide might be slightly different than the blog recipe. The blog recipe is the most updated and accurate.
Calories: 1628kcal | Carbohydrates: 1g | Protein: 2g | Fat: 184g | Saturated Fat: 117g | Cholesterol: 488mg | Sodium: 1621mg | Potassium: 54mg | Sugar: 1g | Vitamin A: 5673IU | Calcium: 54mg
---
Classic Pot Brownies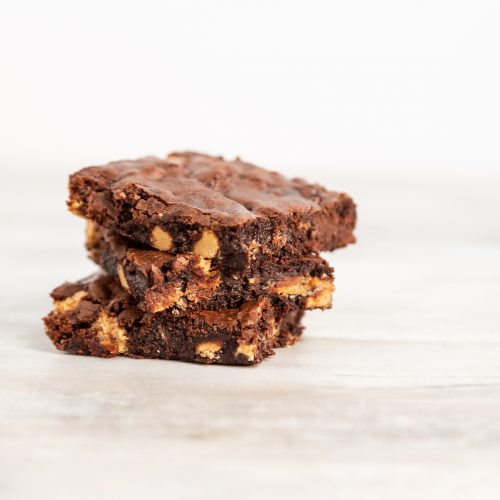 Calories: 200kcal
Author: Robin Briggi
1/2

cup

Canna-butter

1

cup

granulated sugar

2

large

eggs

1

tsp

vanilla extract

1/3

cup

unsweetened cocoa powder

3/4

cup

all- purpose flour

1/4

tsp

salt

1/2

tsp

baking powder

Your

choice

of

1/2

cup

milk chocolate, white chocolate, caramel
Preheat oven to 350°F and grease 8×8 inch pan.

Melt butter in a medium saucepan on stove top. Remove from heat.

Pour melted butter in a large mixing bowl. Stir in sugar, eggs and vanilla.

Sift dry ingredients together cocoa, salt, baking powder, and flour into the bowl with butter mixture. Mix batter well.

* Optional, Add chocolate, white chocolate, peanut butter chips, walnuts or fudge to or on top of batter.

Pour batter into pan, spread evenly. Cook for 30 minutes or stick a toothpick into center to be sure it comes out clean.

Allow brownies to cool. Cut into 9 squares.

* Optional, Add chocolate, white chocolate, peanut butter chips, walnuts or fudge to or on on top of batter.
Calories: 200kcal | Fat: 20g
In one of my favorite episodes, Stevie Budd and David steal a stash of weed from a guest at the motel's room and smoke it.
I love this because not only was it hilarious, but it proves that Schitt's Creek is a weed-positive TV series all-in-all. It's Canadian, after all so that would only make sense.
If you haven't watched it yet – I highly suggest you start and make some of the Schitt's Creek-inspired recipes here!
And for the fans who have seen it – maybe it's time to watch it again?! It is definitely worth it.
---
If you're looking to up-level your canna-cooking game, you may want to start here.
For more recipes like this one, check out our recipe index here.
Share our post and comment below! We'd love to hear from you.
As always, happy canna-cooking!