5 Weed Edible Recipes Without Sugar
Here are 5 weed edible recipes without sugar we bet you didn't know you could make!
Let's face it friends, sugar is sweet but sinful. It's the cause of so many diseases, inflammation, gastric issues, Diabetes and the list goes on and on.
Sugar alternatives can be bitter and claim to have the exact same taste as 'real' sugar, but unless they're processed in a certain way, you're not going to be happy with the replacements.
Of course, you can always use hemp-infused sweeteners like stevia with hemp sweeteners. They actually taste wonderful and don't leave an unappetizing after-taste.
Great for coffee, cooking, baking, and sprinkling on all of your delectable weed edibles.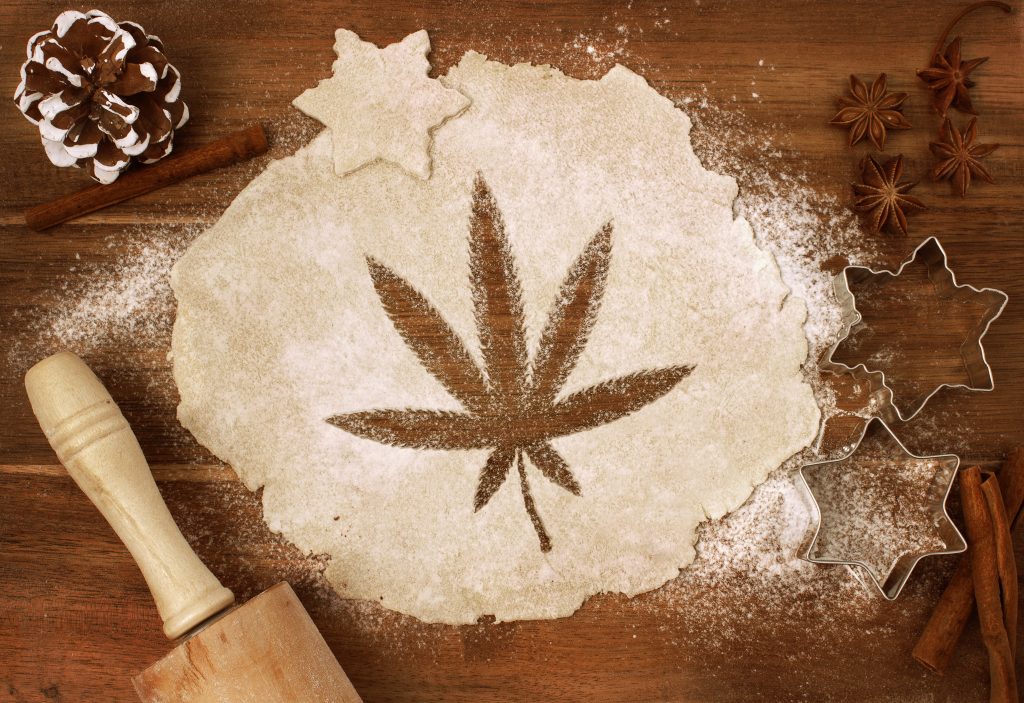 ---
Weed Edible Recipe #1: Cannabutter
Isn't butter basic? No friends, it is not! Butter is the foundation of so many of the recipes we cook and bake. Having this recipe on hand, with a bunch of batches ready to go can infused any dish in minutes!
It just takes a little preparation in advance, and yes, in my personal experience you can freeze your weed butter for up to 2 weeks without any issues. This has been my experience though, may not be yours.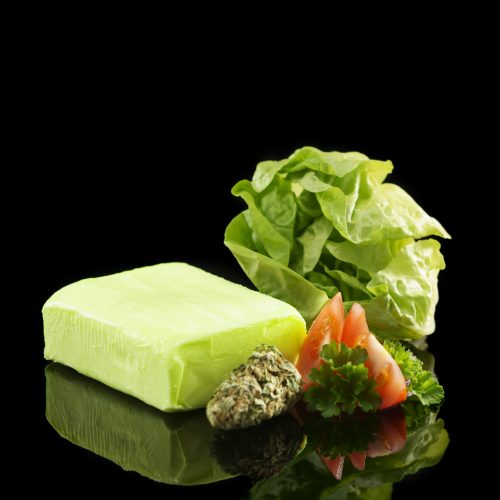 Servings: 1 Cup
Calories: 1628kcal
THC: 700-1400mg
Author: Steph Van De Ven
Decarboxylate your weed by spreading your cannabis evenly on an oven tray And coat with aluminum foil.

Place in the oven on 240F/115C for 25 till 45 minutes, and then let it cool.

Grind your dry cannabis or chop it till fine.

Place the cannabis in a strong mason jar, add butter and (1 tsp of sunflower lecithin)(optional)

Place your closed jar in cold water and let it come to a boil, Boil for 2 to 3 hours.

Strain your butter through a cheesecloth.

Cool down

Now you can use the Cannabis Butter (Cannabutter)
If using a mason jar, be sure to start with cold water. Furthermore, it is imperative to let the water cool gradually so that your glass will not shatter.
The video guide might be slightly different than the blog recipe. The blog recipe is the most updated and accurate.
Calories: 1628kcal | Carbohydrates: 1g | Protein: 2g | Fat: 184g | Saturated Fat: 117g | Cholesterol: 488mg | Sodium: 1621mg | Potassium: 54mg | Sugar: 1g | Vitamin A: 5673IU | Calcium: 54mg
---
Edible Treat #2: Pot Brownies with Sweetener
Not only is this recipe great for those on the Keto diet, it's great for anyone who needs to be mindful of their sugar intake!
Try these gooey and decadent brownies today. Mmmm!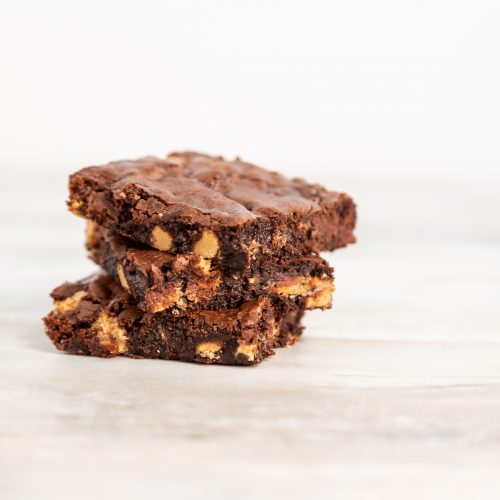 Servings: 6 people
Author: Steph Van De Ven
Cost: 20+
Mixing Bowl

Spatula

Browie or cake pan

Parchment Paper

Measuring cups

Measuring spoons
In a food processor pulse macadamia nuts, salt and baking soda until it looks like crumble

Pulse in remaining ingredients.

Transfer mixture to a parchment-paper-lined 8 x 8 brownie or cake pan

Bake for 25 minutes at 350.

Cool on the counter for one hour, and then enjoy!
---
Sugar Free Weed Treat #3: Weed Gummies!
They are so flavorful and bursting with delicious-ness. PLUS? No sugar.
Perfect for your daily dose or when you need something snacky.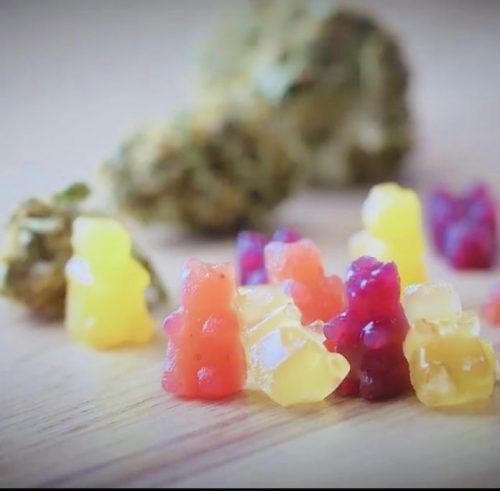 Author: Steph Van De Ven
Cost: 20+
Saucepan

Whisk

Silicone Gummy Molds
2/3

cup

fresh, organic, sugar free juice

Chef's choice!

1/3

cup

water

1

tbsp

lemon juice

fresh

2

tbsp

honey

2-3

tsp

cannabis tincture

3 1/2

tbsp

gelatin
In a saucepan, combine the following ingredients over medium-low heat: 2/3 cup of juice, 1/3 Cup Water, 1 tbsp lemon juice, and 2 tbsp honey.

Add 2-3 tsp cannabis tincture.

Whisk in 3 tbsp of gelatin.

Keep whisking until smooth. Turn off heat.

Fill your mold with your mixture.

Allow cooling for about 5 minutes in the freezer.
---
Sugar-Free Cannabis Edible #4: Thai Shrimp Wraps
These are so fresh and easy to make! If you like shrimp and a dash of exotic – then these wraps are perfect to make.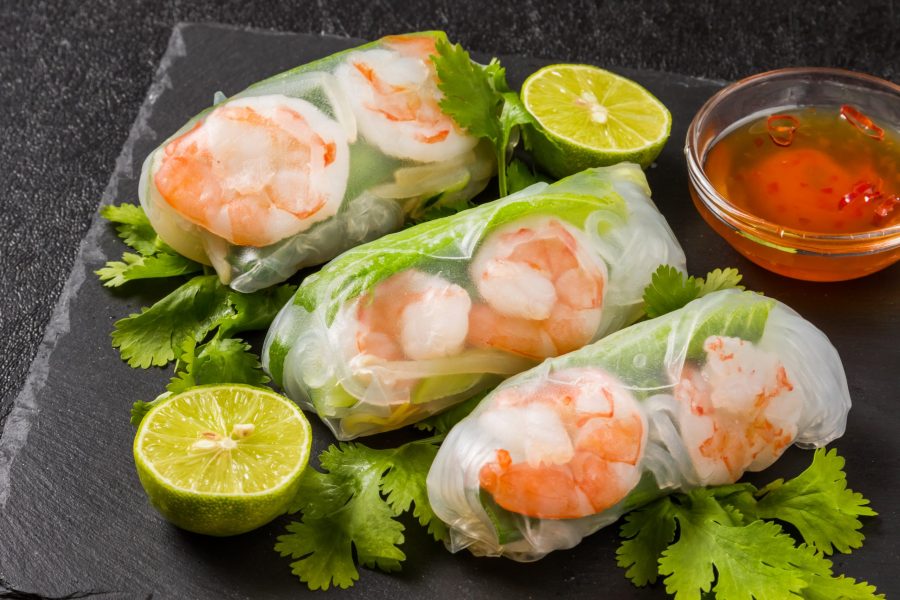 Author: Steph Van De Ven
Cost: 25+
A large area to place your rice wraps

Cutting Board

bowls and dishes for your garnishes

Sharp knife

Garlic press if you don't have minced garlic in a jar

Saucepan

Strainer

Large Bowl
2

ounces

rice vermicelli

8

large

rice wraps

3

tbsp

fresh basil

chopped

1

large bag of cooked shrimp

the bigger the better!

3

tbsp

fresh mint leaves

chopped

3

tbsp

fresh cilantro

chopped.

2

leaves of lettuce

cut into strips

4

tsp

fish sauce

1/4

cup

water

1-3

clove

garlic

minced

2

tbsp

Hemp Sweetener

2

tbsp

freshly squeezed lime juice

1/2

tsp

garlic chili sauce

sugar-free or use sriacha

3

tbsp

hoisin sauce

sugar free

3

tbsp

chopped peanuts

un-salted

1-3

tbsp

cannabutter
Bring a medium saucepan of water to boil. Boil rice vermicelli 3 to 5 minutes, or until al dente, and drain. Set aside. You'll need this later. I used scissors to cut them up perfectly for these wraps.

Fill a large bowl with hot water. Dip one rice wrapper into the hot water for 1 second to soften. Lay wrapper flat. I like to lay it on parchment paper on the counter so it doesn't sticlk.

Repeat with all wraps, and leave them to hang out for a while.

While the rice wraps are hanging out, put 1-2 tbsp cannabuter in a frying pan, (more if you need it) with a heavy helping of garlic. cook on med-high, and don't let garlic burn. Throw in your shrimps, and let them warm up for a minute or two tops. Set aside.

In a row across the center of each wrap, place 2 -3 shrimps, a handful of vermicelli, basil, mint, cilantro and lettuce, leaving about 2 inches uncovered on each side. Fold uncovered sides inward, then tightly roll the wrapper, beginning at the end with the lettuce. Repeat with remaining ingredients.

In a small bowl, mix the fish sauce, water, lime juice, garlic, sugar and chili sauce.

In another small bowl, mix the hoisin sauce and peanuts.

Serve rolled spring rolls with the fish sauce and hoisin sauce mixtures dipping or drizzling sauce overtop. Enjoy!
---
Weed Treats Without Sugar #5: Breakfast BUD Cookies!
You can eat these any time of day, but bud breakfast cookies are a great way to start off your mornings.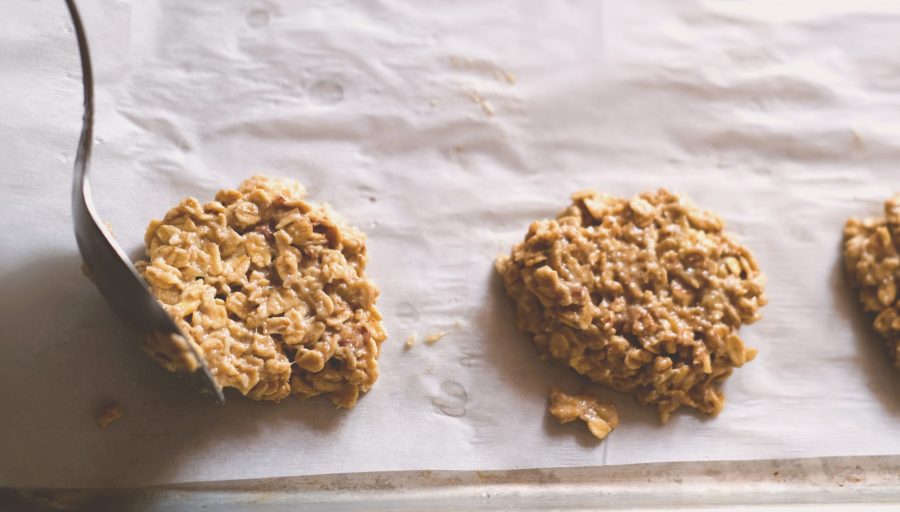 Author: Steph Van De Ven
Cost: 20+
2

cups

rolled oats

1

tsp

Himalayan salt

1

tsp

ground cinnamon

1

cup

almond butter or sunflower butter

you can use peanut butter too

1/4

cup

pure maple syrup or honey OR 1/2 cup hemp sweetener

1/3

cup

apple butter

1

large

banana

mashed

1/4

cup

EACH: cranberries, dark chocolate chunks, pepitas

1/4

cup

ground flax

1/3

cup

cannabutter
Pre heat oven to 325

Line your cookie sheets with parchement paper unless they're silicone

Combine all of the ingredients into a large mixing bowl.

Note: The batter will be thick and heavy

Portion 1/4 cup mounds of cookie dough onto prepared cookie sheet. Use the back of a spoon to slightly flatten out into a cookie shape. (The cookies will not spread in the oven.)

Bake for about 12-15 minutes or until the edges are slightly brown. Cool cookies on the baking sheets for 10 minutes, then transfer to a wire rack to cool completely.

Cover leftover cookies and store at room temperature for up to 5 days or in the refrigerator for up to 10 days.,alternatively in the freezer for 2-3 weeks.
---
If you're looking to up-level your canna-cooking game, you may want to start here.
For more recipes like this one, check out our recipe index here.
Share our post and comment below! We'd love to hear from you.
As always, happy canna-cooking!