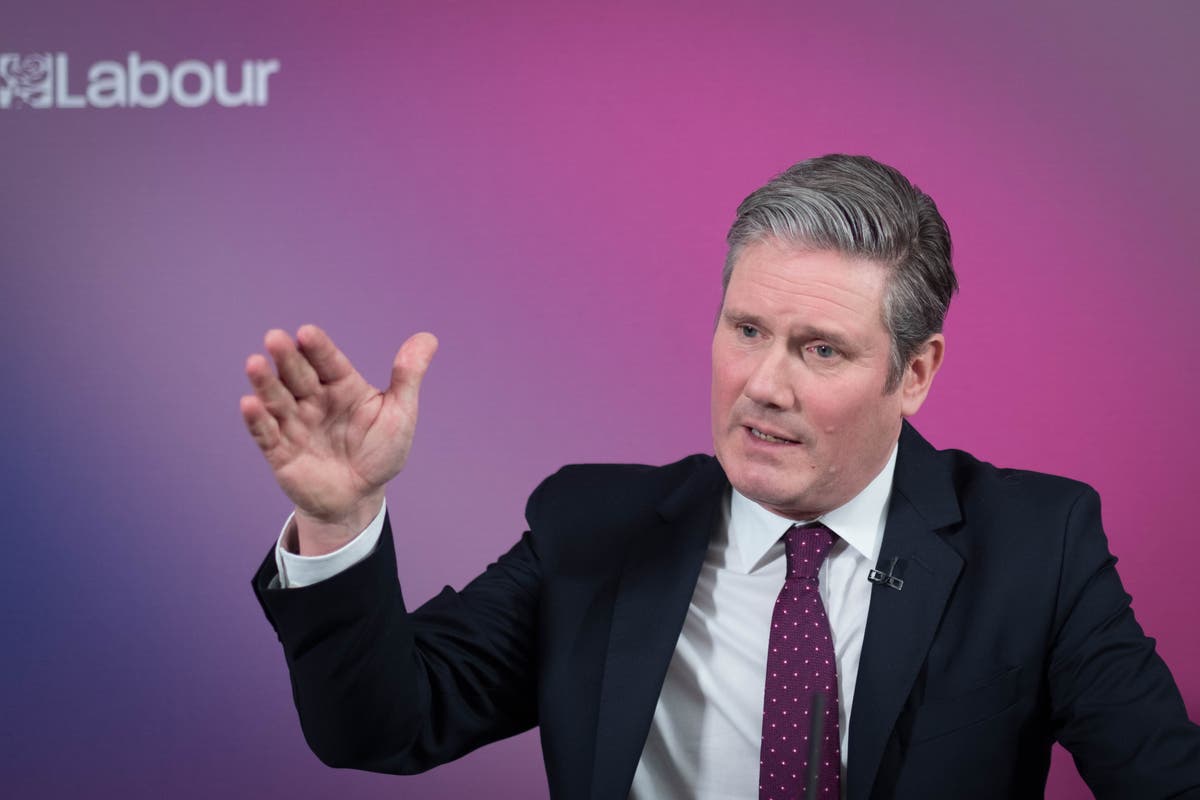 Keir Starmer has insisted he is proud to be "patriotic" after damaging criticism that voters are confused about what Labour stands for.
Under pressure over his leadership, Sir Keir also ruled out a liberalisation of drug laws – saying he had "seen too much damage" in his past role as a prosecutor.
And he called for stronger trans rights laws to replace the current "demeaning" legislation, without going into details on the controversy over access to women-only spaces.
Asked about leaked Labour focus group findings suggesting voters believe he must "stop sitting on the fence", the Labour leader said he had a "driving determination to root out inequality".
"Yes I'm patriotic – that was one of the issues that was in this report that was leaked," Sir Keir told Sky News.
He added: "The whole Labour movement is very patriotic We are in politics to change our country for the better – you can't get more patriotic than that. I'm very, very comfortable with it."
During the interview, Sir Keir:
* Dismissed fading poll ratings because Labour is on a "four-year journey" to turn around the "worst loss since 1935".
* Told critics of his shifts on Brexit that "free movement is gone" following withdrawal from the EU – with a "fair and humane" immigration system now the priority.
* Rejected calls from teacher unions for a phased return of schools, arguing all children should be back in England's classrooms on March 8 "ideally".
* Failed to take a stance on so-called 'vaccine passports' to enter venues – calling for "a national debate" and for the country to "tread very, very carefully on this".
* Said Matt Hancock should keep his job – despite the health secretary being found to have acted unlawfully over Covid contracts – saying: "At this stage of the pandemic, I want all government ministers working really hard to get us through."
Sir Keir's leadership was rocked by the leak of a strategy document, suggesting the party must demonstrate its patriotism in order to attract voters, and claims of excessive caution.
But he argued he had successfully shifted the party from facing questions over its survival to whether it will form the next government, saying: "That tells you how far we've come.
"Did I think this was a one-year project that we could turn around the worst loss since 1935 in 12 months? No, I didn't. Do I think competence is enough? No, I don't. Do I think it's a four-year journey? Yes, I do."
On cannabis decriminalisation: "I've never subscribed to that view.
"When I was director of public prosecutions, I prosecuted many, many cases involving drugs and drug gangs and the criminality that sits behind, and it causes huge issues to vulnerable people across the country."
And, on whether trans women should have access to women-only spaces such as prisons, toilets or refuges, he called for"a grown-up discussion".
"I think we should go further than the current legislation, but what I don't want is this war that's going on at the moment by two different groups fighting each other in a way that we can't make progress," he said.