Snickerdoodle Cannabis Cupcakes
Sweet, simple, and loaded with cinnamon and Cannnabutter – today we're making Snickerdoodle Cannabis Cupcakes!
A snickerdoodle cookie is super simple to make – just remember that the main ingredient is one of my favorite's: cinnamon.
If you're a cinnamon lover, you're going to fall for my cupcake recipe and we already guessed that your cannabis lover, so keep reading and enjoy making these tasty weed edibles.
How Do I Bake With Weed?
I wish it was as simple as grinding up your favorite strain of cannabis and sprinkling it in – but it's not.
We have to take a few steps first, so that you can get the very best out of your weed and enjoy all of the benefits.
If you don't decarb your weed, you're doing yourself an injustice.
Decarboxylating basically means heating your weed – but the act of doing so converts and activates cannabinoids to elicit a high.
Failing to decarb means you'll have a weak edible, and that would just suck!
The Decarboxylation Process
The next step is making your delicious and oh-so-versatile cannabutter. Mmm.. it's so tasty and works in just about everything! I LOVE cannabutter!
Here's how you make it, and please don't skip this step because you'll need it to make Snickerdoodle Cannabis Cupcakes, and so many other yummy weed edible recipes.
How To Make Cannabutter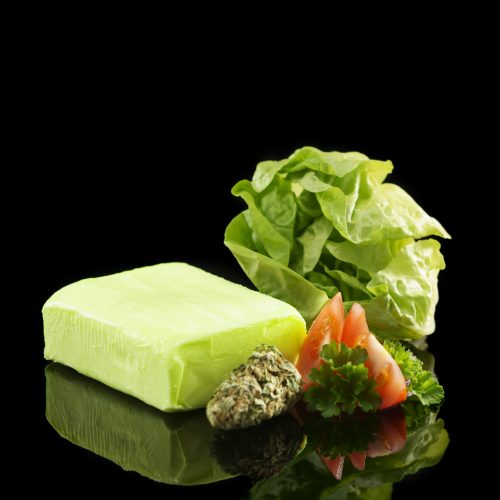 Servings: 1 Cup
Calories: 1628kcal
THC: 700-1400mg
Author: Steph Van De Ven
Instructions
Decarboxylate your weed by spreading your cannabis evenly on an oven tray And coat with aluminum foil.

Place in the oven on 240F/115C for 25 till 45 minutes, and then let it cool.

Grind your dry cannabis or chop it till fine.

Place the cannabis in a strong mason jar, add butter and (1 tsp of sunflower lecithin)(optional)

Place your closed jar in cold water and let it come to a boil, Boil for 2 to 3 hours.

Strain your butter through a cheesecloth.

Cool down

Now you can use the Cannabis Butter (Cannabutter)
Notes
If using a mason jar, be sure to start with cold water. Furthermore, it is imperative to let the water cool gradually so that your glass will not shatter.
The video guide might be slightly different than the blog recipe. The blog recipe is the most updated and accurate.
Nutrition
Calories: 1628kcal | Carbohydrates: 1g | Protein: 2g | Fat: 184g | Saturated Fat: 117g | Cholesterol: 488mg | Sodium: 1621mg | Potassium: 54mg | Sugar: 1g | Vitamin A: 5673IU | Calcium: 54mg
Snickerdoodle Cannabis Cupcakes
Finally, right?!
You've got your weed decarbed, you've got plenty of cannabutter to go, and now it's time to bake your cupcakes!
Follow this easy step-by-step recipe below to get your cupcakes to turn out perfectly!
Just remember that it takes sometimes an hour or more for edibles to kick in. Enjoy a cupcake or two, wait a while to see how you feel.
Don't drive, stay home, be responsible, and relax!
Oh – and a nice cup of CBD coffee goes great with these cinnamon-infused cupcakes – just as a little side note!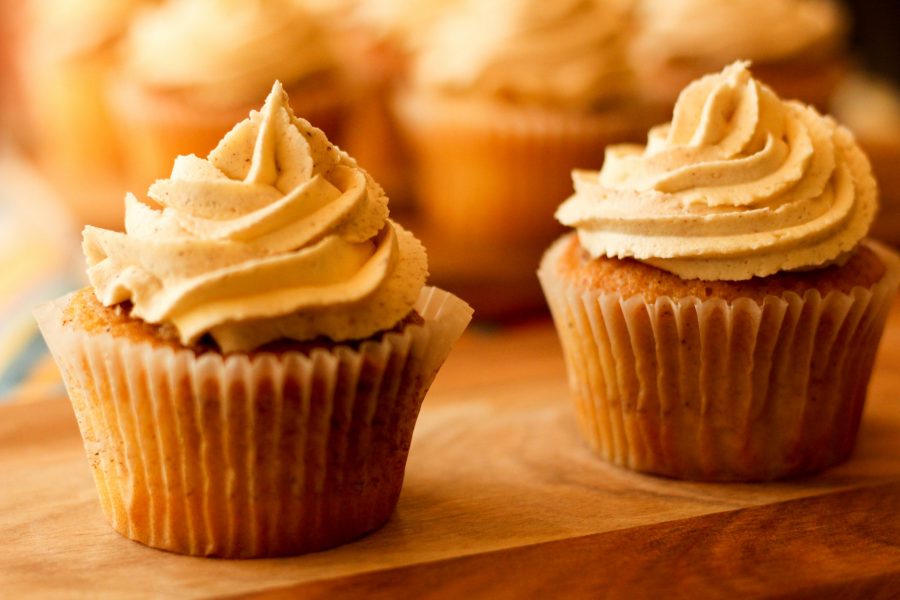 Author: Steph Van De Ven
Cost: 20+
Equipment
Mixer or electric beater

mixing bowls, measuring cups, and measuring spoons

Spatula

muffin tin/tray – silicone

muffin liners
Ingredients
1 2/3

cup

flour

all purpose

1/2

tsp

baking powder

1/4

tsp

baking soda

1/2

tsp

salt

1/2

cup

cannabutter

1 1/2

cups

granulated sugar

1

large

egg

1/4

cup

sour cream

3/4

cup

milk

1 1/2

tbsp

pure vanilla extract

3

tsp

ground cinnamon
Cinnamon Swirl Frosting
1

cup

cannabutter

4

cups

confectioners sugar

1/4

cup

heavy cream

3

tsp

pure vanilla extract

1

tbsp

ground cinnamon
Instructions
Preheat the oven to 350°F. Line a 12-cup muffin pan with cupcake liners.

In a medium mixing bowl, whisk flour, baking powder, baking soda, and salt together. Set aside.

In a large microwave-safe bowl, melt the cannabutter in the microwave. Whisk in 1 cup of sugar. The mixture will be gritty.

Stir in egg, sour cream, milk, and vanilla extract until combined. Slowly mix in dry ingredients until no lumps remain.

Note: The batter will be thick.

In a small bowl, mix the remaining 1/2 cup of sugar and 2 teaspoons of cinnamon together. Set aside.

Spoon 2 tbsp of your batter into the cups, then 1 tsp of the cinnamon sugar mixture you saved in the small bowl, then layer again with 2 tbsp approx of the batter so that each cup is approximately 3/4 full. Top each cupcake with 1 more teaspoon of the cinnamon-sugar.

Bake the cupcakes for 20 minutes or until a toothpick inserted in the center comes out clean.

ALWAYS: Allow to cool completely before frosting.
FROSTING TIME!
With a handheld or stand mixer fitted with a paddle or whisk attachment, beat cannabutter on high speed until smooth and creamy, about 1 minute. Add confectioners' sugar, cream, and vanilla extract. Beat 1 Tablespoon of cinnamon into the frosting. Use the rest to sprinkl on top or simply make some more cinnamon sugar mix and sprinkle it al over!

Pipe onto cupcakes using a piping bag, or a ziplock sandwich bag with a small hole cut in the bottom corner.

Enjoy!