9 Weed Edible Breakfast Recipes
They say it's the most important meal of the day, so let's explore 9 Weed Edible Breakfast Recipes!
You'll find a comprehensive list of 9 delicious ways to consume cannabis for breakfast.
Start your day off right with the best recipes ever!
Today You'll Learn How To:
Properly decarb weed
Make proper and accurate cannabis infusions
Not make mistakes and get the best out of your weed
Create tasty breakfast dishes to use over and over again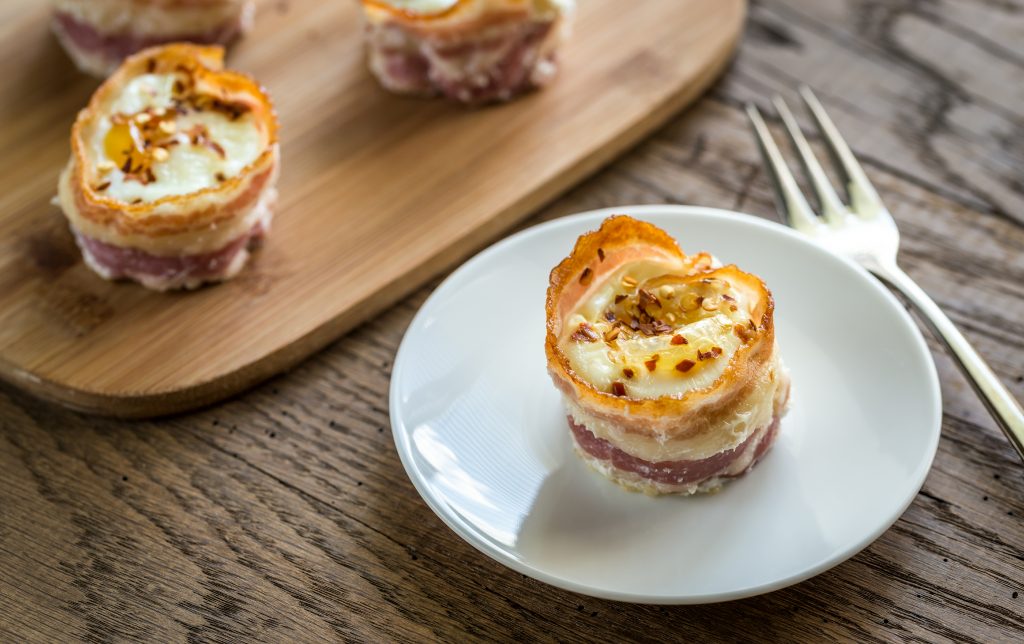 Here is a list of our favorite 9 weed edible breakfast recipes!
This list contains recipes that use cannabis-infused coconut oil, cannabutter, cannabis-milk, and even weed-infused honey to make breakfast better.
Some of our recipes range from 'budding beginner' to 'canna-Chef's', so make sure to start at your cooking comfort level before beginning!
How Do I Decarb Weed?
You need to decarb your weed! Learn why and how in our easy-to-follow instructional video below.
---
Let the Cannabis Breakfast Commence!
---
#1. Cannabis-Infused Coffee
You didn't think we'd start breakfast off without a big hot cup of cannabis coffee did you?
If you haven't tried cannabis coffee before, you're definitely missing out.
If you feel like having a super healthy bullet-proof coffee, try that out too!
Try our recipe below, and sip often!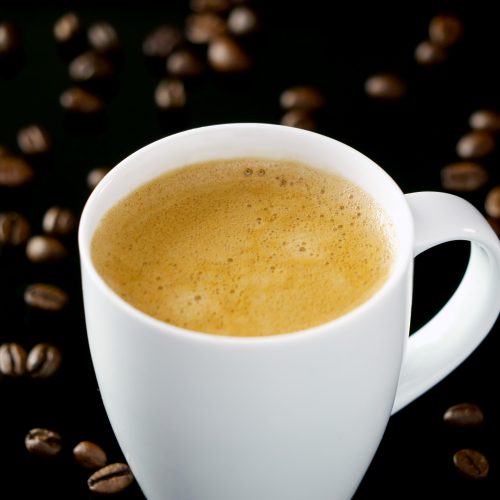 Author: Steph Van De Ven
#2. Cannabis Coconut Oil
You can use this oil in so many edibles recipes, and it actually keeps for quite some time!
You can use this as a drizzle over eggs, your avocado-toast, or as a splash in your coffee too!
Check out our our coconutty-cannabis oil recipe.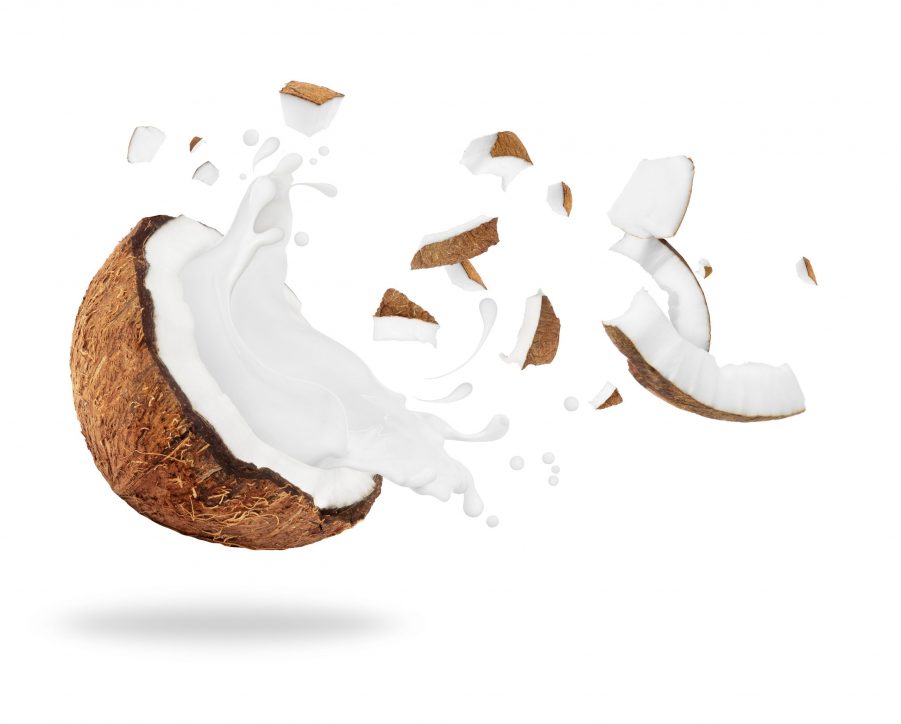 Author: Steph Van De Ven
Cost: 40
Combine oil and cannabis in your double-boiler, slow cooker, or saucepan and heat the two together on low or warm for a few hours.

Use a slow cooker on low for 4-6 hours, stirring occasionally.

OR, in a double-boiler on low for 8 hours, stirring occasionally;

Adding small amounts of water can be added to the mixture to help avoid burning.

Note: Temperature of the oil should not exceed 245°F.

Refrigerate up to a few weeks, and use in baking, cooking, and topically as well!
#3. Weed-Infused Honey with Vanilla
It sounds as sweet as it reads, and this can be a staple in your breakfast meal plans, or as a sweet treat on the side!
Lovers of this recipe have told us that they throw it in their tea daily and it gives them a wonderful feeling, that takes the edge off of stressful mornings.
Try a little sweetness today!
#4. Cannabis Deviled Eggs
You can make these bad boys in advance, store them in a seal-tight container and pop them in your mouth whenever you get up.
Not only are they creamy, dreamy and decadent – they are loaded with weed so make sure you aren't going anywhere directly after brekky!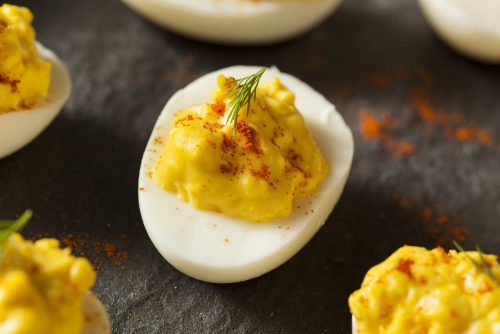 Calories: 200kcal
THC: 64 – 128mg for all the eggs
Place eggs in a saucepan and cover with cold water. Bring water to a boil and boil eggs for 10 to 15 minutes. Remove eggs from boiling water and place in a medium saucepan of cold water until cool.

Remove the shells and cut the eggs lengthwise to remove the yolks. Place yolks in a medium sized mixing bowl.

Mix in the mustard, Cannabis Oil, mayonnaise, garlic salt and onion powder with the egg yolks. Scoop the mixture into the hollowed out areas of the egg whites. Garnish with paprika. Refrigerate at least one hour before serving.

Serve the Cannabis Deviled Eggs
Calories: 200kcal | Fat: 20g
#5. Cannabutter Egg & Bacon Cups
I love the way these little cups stand up by themselves, and contain a delicious layer of eggs and bacon!
These take less than 30 minutes, and the results are satisfying and filling.
You can sub goat cheese for dairy if you find it a little too rich.
Get 'bacon today! Check out the recipe below.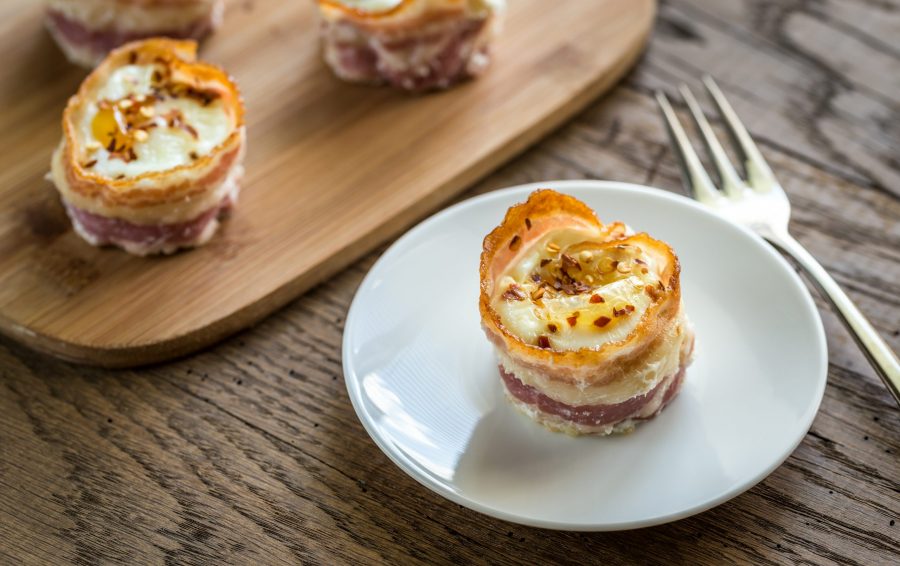 Servings: 4 people
Author: Steph Van De Ven
Cost: 20+
Muffin Tin ( 12)

Cheese Grater

Large Bowl

Whisk

Measuring cups

Measuring spoons
12

slices

bacon

10

large

eggs

3

tbsp

Cannabutter

1/4

cup

sour cream

1/2

cup

shredded cheddar

1/2

cup

shredded mozzarella

2

jalapenos

1 minced, 1 sliced

1

tsp

garlic powder

1

pinch

Himalayan salt & fresh pepper

each

1

can

non stick cooking spray
Spray your muffin tin with non-stick cooking spray making sure to get all of the edges, sides and bottom.

Taking one strip of bacon at a time, wrap the bacon into a circle around the sides so it acts like a muffin cup around the edges!

Preheat oven to 350

In a large mixing bowl, mix together eggs,sour cream, cannabutter, cheeses, 1 minced jalapeno, garlic powder, salt and pepper until everything is coated.

Evenly pour your mixture into the 12 muffin tin cups.

Slice up your other jalapeno and place little slices on top of each cup.

If you have any left over cheese or you want to grate some more, feel free to sprinkle on top of every cup as well.

Pop it into the overn for 12-15 minutes – checking it often. When the sides are golden brown, and the tops are completely melted and bubbling, everything is ready and done!
#6. Belgian Waffles with Cannabis Butter
How do they make that perfect-looking waffle? I know the secret! Look at this cutest waffle maker EVER!
Make a gorgeous, elevated weed-waffle breakfast! Add some fresh fruit, and a nice hot cup of cannabis coffee.
Weed-waffles below!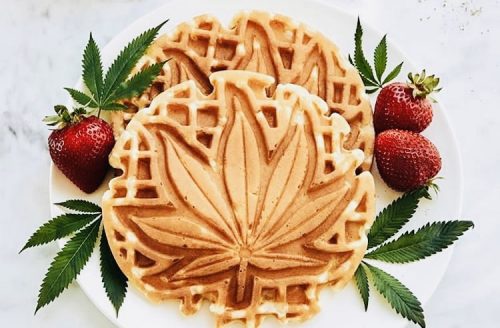 Calories: 200kcal
1/4

cup

Cannabis Butter

2

cups

all-purpose flour

3/4

cup

sugar

3-1/2

teaspoons

baking powder

2

large eggs, separated

1-1/2

cups

whole milk

1

cup

butter, melted

1

teaspoon

vanilla extract

Sliced fresh strawberries or syrup
In a bowl, combine flour, sugar and baking powder.

In another bowl, lightly beat egg yolks. Add milk, butter, cannabis butter and vanilla; mix well. Stir into dry ingredients just until combined.

Beat egg whites until stiff peaks form; fold into batter.

Bake in a preheated waffle iron according to manufacturer's directions until golden brown. Serve with strawberries or syrup.
ollow the simple recipe below.
Calories: 200kcal | Fat: 20g
#7. Cannabis-Infused Bacon Fat
It sounds so greasy and wonderful, doesn't it? I love bacon. I LOVE it so much that I have to stop myself from eating too much!
This recipe below is no exception, and you'll love how you can use pork in so many ways with cannabis.
Drown your eggs, or toast in delicious cannabis bacon fat and then roll on over to the couch to just chill!
This is definitely a jogging-pants kinda breakfast!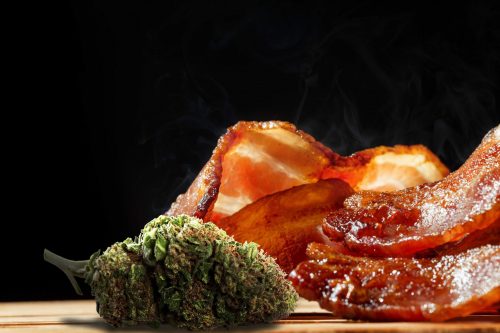 THC: 700 – 1400 Mg
Author: Steph Van De Ven
1

Pound

Sliced bacon

High fat with less meat

7

Grams

Cannabis

1

Tbsp

sunflower lecithin
Pre heat your oven to 240F

Take 7 grams of cannabis buds and spread them evenly on an oven tray with baking sheet. Cover with silver foil.( do not grind the cannabis fine. Medium chunks does well)

Let the cannabis decarboxylate for 40 minutes.

While the cannabis is decarbing in the oven, take a lare cooking pan and get your bacon strips ready.

On low to medium heat, cook the bacon evenly for around 10 minutes untill all fat comes out of the bacon. Strain the fat through a sieve into a mason jar. ( do this in batches untill all bacon is cooked)

You should now have about 1 cup of bacon fat in the mason jar. Once cannabis is decarbed, place the buds in the mason jar which contains the bacon fat together witb the lecithin powder.

In a medium pot, fill with cold water and place your mason jar in it. Turn on the heat and let the cold water come to a simmer.

Let it simmer for 2 – 3 hours. Continue to fill water in the pan if some of it evaporates.

After 2 – 3 hours, strain your cannabis buds out of the bacon fat. Discard the cannabis. (All THC is now in the bacon grease)

Your bacon fat is now infused with THC.
Make sure that the mason jars you use are strong. Also, always make sure to start them off in cold water to avoid the jars shattering during the heating process.
#8. Cannabis Pancakes
Wake & Bake these fluffy cannabis-laced pancakes and enjoy a hearty breakfast with your partner or all by yourself!
I love eating pancakes while watching a great TV show, so give yourself enough time to do so in the morning.
Pancakes are a great weekend treat, so plan to enjoy a morning full of weed and pancake-pleasure!
Recipe below.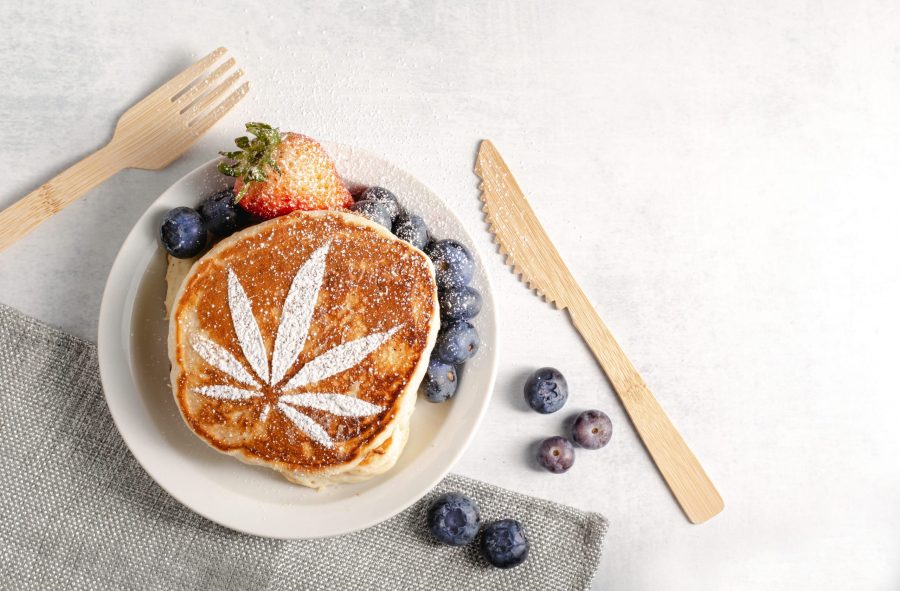 Servings: 4 people
Author: Steph Van De Ven
Cost: 20
Add-on's
1

cup

sliced fruits of choice
Whisk together flour, baking powder, sugar, salt. Add egg and milk.

Set stove to medium. Coat a large frying pan with butter.

Use a quarter-cup of batter for each pancake, cooking until batter is bubbling. Then flip the pancake and let cook for another 30–60 seconds or until golden

Repeat process until batter is gone.

Top with butter, syrup, sliced fruit, and/or whipped topping. Enjoy!
#9. Cannabis Papaya Smoothie
Smoothies are the easiest, most tasty way to consume cannabis when you're on the go!
Not a fan of papaya? Don't worry – we have a ton of smoothie recipes here.
If you like papaya, or want to give it a try – you'll notice how refreshing it is, and the bonus is that papaya is said to be great for digestion too!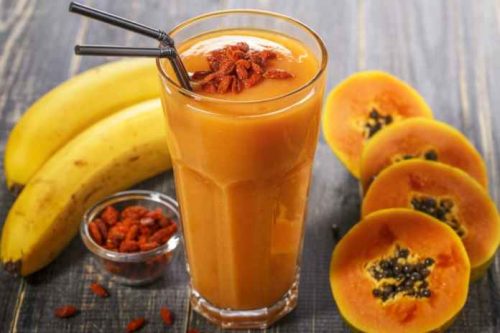 Calories: 200kcal
THC: 86MG per batch smoothie
Author: Steph Van De Ven
1/2

cup

Cannabis Milk

1

small papaya, peeled, seeded and diced

1

banana, sliced

1/2

cup

sliced strawberries

Pineapple wedges and/or maraschino cherries, for garnish
Calories: 200kcal | Fat: 20g
If you're looking to up-level your canna-cooking game, you may want to start here.
For more recipes like this one, check out our recipe index here.
Share our post and comment below! We'd love to hear from you.
As always, happy canna-cooking!